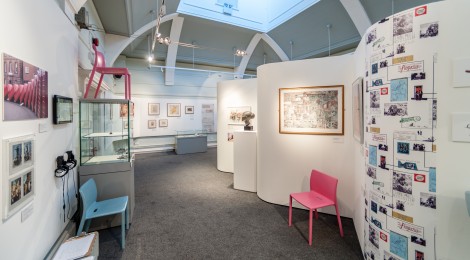 'Kingston School of Art: 140 Years', 5 February – 21 March 2015
From art classes held in Kingston in 1875, through the opening of Knights Park in 1939 to a vibrant global institution within Kingston University, this exhibition highlights the people, atmosphere, creative life and works of Kingston School of Art.
Focusing on eight landmark moments from the first art classes held in Kingston town centre in 1875 to the present day, a wealth of art and design works, photographs, films and archival material narrate this fascinating history.
From Alfred Collister and Archibald Knox – the first design master – and the breakaway Knox Guild formed in 1912, and the painter Reginald Brill who secured a purpose built art school in 1939, the exhibition showcases art school practices in fashion, graphics, illustration, fine art, architecture, interior and furniture design. Encompassing such key events as WW2 model making and the Recording Britain project; The 1951 Festival of Britain; the post-war Golden Lane Estate and Barbican; 1960s counterculture, and fine art and design practices from the 1970s to now, it includes over 150 works, objects and photographs, drawn from public and private collections, including the Imperial War Museum, the Government Art Collection and the V&A.
Frank Archer – Fiona Banner – John Bratby – John Dawson Binns – Christoph Bonn – Reginald Brill – Daphne Brooker – Eric Brown – Lionel Bulmer – Peter Chamberlin – Vivien Chan – Alfred Collister – Warner Cooke – Deborah Curtis – Richard Demarco – Aidron Duckworth – Wilfred Fairclough – Elsie Few – Barbara Constance Freeman – Gertrude Harris – Marcia Gibson-Watt – Dora Gordine – Arthur Henderson (Harry) Hall – Carole Hodgson – Jim Holdaway – Constance Howard – Derek Hyatt – Howard Karslake – Morris Kestelman – Archibald Knox – Knox Guild – Augustus Lunn – David Mach – Jack Millar – Jasper Morrison – Clarissa New – Laura Oldfield Ford – Harold Wilson Parker – Don Pavey – Edwin (Eddie) Pickett – Geoffry Powell – William Plunkett – John Robson – Helen Storey – Janos Stryck – Andy Tittensor – Denise Tuckfield – Winifred Tuckfield – Gavin Turk – and more
The exhibition is curated by Robert Knifton and Fran Lloyd Archive Kingston School of Art at Kingston University's Faculty of Art, Design and Architecture. Royal Borough of Kingston have worked in partnership with the University to develop the exhibition which has been made possible through funding from the Heritage Lottery Fund and The Henry Moore Foundation. The exhibition will be open to the public from 6th February.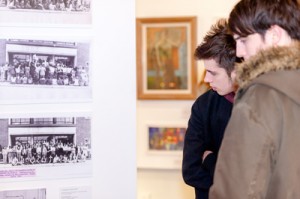 Events
Thursday 5th March 5pm-7pm
Art School Counterculture
Book via Eventbrite
Celebrate KSA's place within pop culture at this special multimedia event featuring performances and material from Knights Park's 1960s heyday.
Expect music, poetry, fashion, fun and frivolity as we evoke the art school atmosphere. There will be a short talk from Sandy Denny's biographer, Mick Houghton and the book launch of  'I've Always Kept a Unicorn: The Biography of Sandy Denny'.
With live music from Vince Wade and Laura Ward (Hickory Signals), poetry readings and custom writings on typewriter by Lewis Parker, live dance in authentic sixties fashion, and a special book launch and reading by Mick Houghton, biographer of KSA alumna Sandy Denny, author of I've Always Kept a Unicorn: The Biography of Sandy Denny.
Have a glass of wine and experience the art school atmosphere.
Tuesday 10th March 12.30pm-1.15pm
Curator's Guided Tour with Dr Robert Knifton
Book via Eventbrite
Dr Robert Knifton, the Histories in the Making Researcher gives a curator's guided exhibition tour at Kingston Museum.
Kingston School of Art: 140 Years is open to the public from the 6th February to the 21st March at Kingston Museum. The exhibition highlights the people, atmosphere, creative life and works of Kingston School of Art over the last 140 years. The exhibition runs in conjunction with a variety of other events in different locations across Kingston celebrating this special anniversary year.
Thursday 19th March 5pm-7pm
Fashion Show
Book via Eventbrite
Fashion Show, presenting designs by recent Faculty of Art, Design and Architecture Graduates of Kingston University.
Fashion at Kingston School of Art has always enjoyed a glowing reputation, with our students winning numerous international awards from the 1960s up to the present day. We will showcase the designs of recent graduates, echoing and building on the daring couture found within the exhibition at Kingston Museum.
KINGSTON MUSEUM
Wheatfield Way
Kingston Upon Thames KT1 2PS
T 020 8547 5006
Open: Tuesday, Friday, Saturday 10am-5pm Thursday 10am-7pm
Admission free