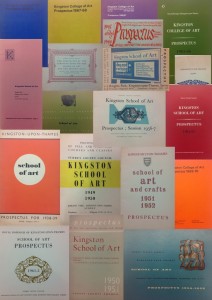 ArchiveKSA aims to represent artefacts, stories and memories linked with Kingston School of Art throughout its history.
Post-school art and design education in Kingston possesses a rich and diverse history which can be traced back to the 1870s and thrives in its present position within the Faculty of Art, Design and Architecture at Kingston University. Teaching was conducted at several shifting sites in the locality during the intervening years: including the School Rooms at Wood Street, the Assize Courts, St James's Road, the former Hawker Hurricane Factory at Canbury Park Road, as well as the current Knights Park site, which first opened to students in 1939.
Over this span of more than a century, numerous artists, illustrators, designers, architects, and other creative practitioners have passed through Kingston – either learning the skills as students that would later bring them critical acclaim – or transmitting their accumulated knowledge as lecturers and teachers to encourage the next generation of artists and designers. Celebrated graduates include such luminaries as John Bratby, Fiona Banner, Anya Gallaccio, Stewart Home, David Chipperfield, and Jasper Morrison; whilst influential lecturers who taught at Kingston feature names such as Reginald Brill, Daphne Brooker, Constance Howard and Archibald Knox.
The School has always embraced a broad range of art and design disciplines, in particular developing instruction in illustration and architecture alongside more traditional art methods of drawing, painting and sculpture in the early twentieth century. It also played a particularly key role in establishing professional fashion education in the United Kingdom.
These multiple histories have never been fully expounded via academic enquiry, nor artefacts associated with art and design at Kingston collected systematically for posterity. ArchiveKSA will redress this by providing a platform for the digital archiving of histories, memories, artefacts and ephemera relating to Kingston University's Faculty of Art, Design & Architecture and its antecedents, Kingston College of Art and Kingston School of Art. We aim to gather, record, document and publish a broad spectrum of material – from personal reminiscence, through exhibition posters and leaflets, to archival documents. The archive will exist as a digital repository for traces of the diversity of art school life in Kingston, highlighting the importance of the institution to the local community, national arts education, and demonstrating its global reach via its former students and staff.
ArchiveKSA is a collaboration between the Visual and Material Culture Research Centre and the Modern Interiors Research Centre at Kingston University.
Project Director: Fran Lloyd