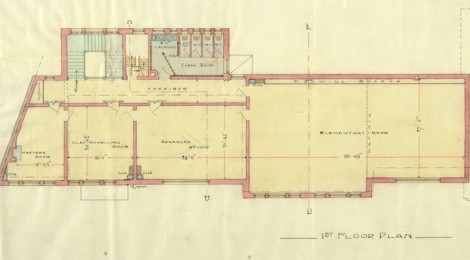 Correspondence found in the National Archives at Kew details the discussions leading up to the erection of the original Kingston School of Art on Kingston Hall Road in 1899. In a letter dated 4 February 1898 H. Macan, secretary of the Technical Education Committee, outlines the various delays that had held up the art school since the idea of conceived in the aftermath of the Kingston Exhibition. Macan explains how changes in Borough boundaries, the Education Bill passing through Parliament, applications for funding, and an architect's illness resulted in five years of behind the scenes work before the art school was finally built in late 1898, and opened in early 1899.
The art school cost a total of £7936/19/5, with the following institutions providing the funding:
Surrey County Council                                 £4303/5/2
Kingston Corporation                                   £2499/2/10
Trustees of 1882 Kingston Exhibition       £667/1/5
Science and Art Department Grant             £467/10/0
The building was registered as an art school with the Department of Science and Art on 23 January 1899, and was formally opened on 9 February 1899.