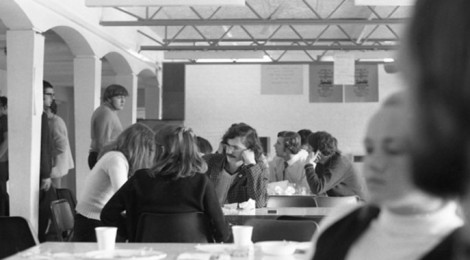 Ever since its early days, problems of overcrowding were continually surfacing at the art school. In October 1961, the new extension to Knights Park was officially opened to help alleviate this issue. An article in the Surrey Comet reported on the occasion:
£100,000 EXTENSIONS OPENED
'School has great name in art world'
'Kingston School of Art is one of the best art schools in the country, Sir Charles Wheeler, president of the Royal Academy of Arts, said on Tuesday.
Sir Charles, who was opening the new £100,000 extensions to the art school, said, "Kingston School of Art has a great name in the world of art education.
"Indeed, it is not too much to say that it is among the top ranking institutions for art training in the whole of the country."
Sir Charles said he had seen on many occasions, with admiration, the work of the students and he thought that the school had a really remarkable record.
He went on, "Now that the difficulties of restricted space have been overcome by these extensions I hope and believe the school will go on maintaining the high reputation it has in the art world."
The article notes that in 1960, around 80 students were entered for examinations from Kingston, a number that would increase significantly over the 1960s. It also describes the extension itself:
'The new extension provides a refectory for students and staff, a library, complete new accommodation for the architectural department, a workshop and other studios. The buildings was planned by the County Architect (Mr J. Harrison) and was built by C.H. Gibson at a cost of £101,717.'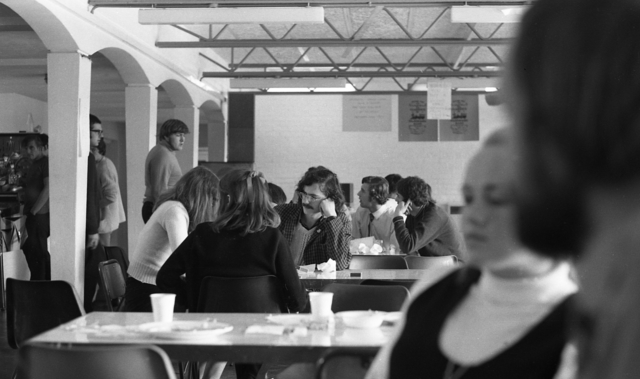 Refectory at Knights Park, as opened in 1961. This image courtesy of architecture alumni Børre Ludvigsen dates from later in the 1960s.