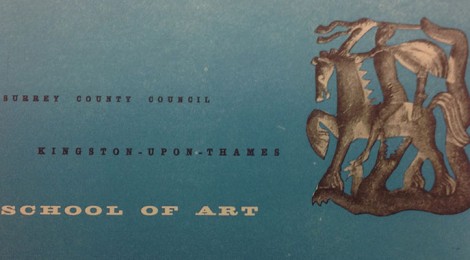 Prospectuses give us a comprehensive list of staff employed by the art school at this time. The image shows the 1954/55 prospectus, but the list below is from 55/56. After the Second World War finished, the size of the staff employed by the art school expanded considerably, as this list proves. Some are well documented in ArchiveKSA, others less so – if you have additional information or artefacts relating to any of these figures, please do get in touch.
Architecture
Head of School – Eric Brown
Studio Instructors – Noel Moffett, P. Gordon Miller, Victor Smith, W. Cutting, E.H.W. Priefert, Hal Cassius Higgins, Zygmunt Scrobanski, B. Winkler.
Professional Practice – R.L. Thorpe
Statics – N.E. Hough, W.H. Willats
Fine Art
Head of School – Wilfred Fairclough
Figure Composition – Alfred Heyworth
General Drawing – Reginald E. Hanson, J.E. Mapp
Life Drawing – Lionel Bulmer, Max G.A. Brooker, A.E. Hart
Figure Composition – Frank J. Archer, John Newton
History of Painting – R.A. Davey
Methods – Augustus Lunn
Modelling and Carving – Charles W. Lewis
Modelling – Andy Tittensor, R.H. Thomas, Douglas Wain-Hobson
Pottery – Miss P.E. Tacon
Design
Head of School – John Dawson Binns
Senior Lecturer – Arthur Henderson Hall
Basic Training – Donald Adair Pavey, John Grinstead, Robert Brown, R. Adams
Design – Miss G.I. Cloke
Millinery – Miss F. Dundas
Dressmaking – Miss G. Bickers, Miss P. Procter, Mrs Taverndale
Fashion Accessories – Reginald E. Hanson
Interior Decoration – C. Read
Furniture – Ian C. Audsley
Display – Clarence A. Mirfield
Textiles – Les Duxbury
Mosaic & Stained Glass – J. Baker
Industrial Glass – R.C. Goodall
Drawing & Painting – Max Brooker
Design – Arthur Henderson Hall
Illustration – P.V. Moon
Lettering – Edward Sutton, P. Holmes
Lithography – N. Manners
Typography – Charles Hasler
Photography – C.R. Markey, H. Brough-Robertson
Silkscreen – Les Duxbury
Bookbinding – John Grinstead
Wood Engraving – Derrick Harris
Fashion Drawing – Miss S. Walton
Junior Crafts – D. Gray