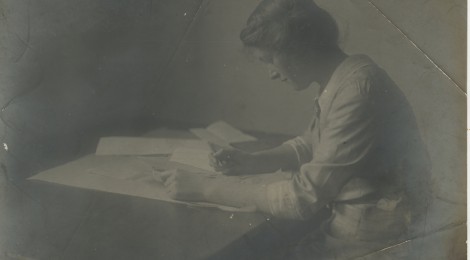 In 1912 a group of design students who had been taught by Archibald Knox at Kingston School of Art resigned their places and formed a rival grouping based in 24 Market Place, Kingston town centre. Margot Coutts recounts the events that led to this splintering of design education in the town:
"The style of work submitted for examination by Knox's students at Kingston caused altercations between the South Kensington Examination Board and the School. Apparently the Board was, in the words of Rosemary Wren, 'very much afraid of art nouveau, it was not quite nice' and saw Knox's Celtic-inspired forms as approximating to the Continental disease…"[1]
Knox tendered his resignation in reaction to the unfavourable report, and it was accepted by his old friend from the Isle of Man, Headmaster Alfred Collister.  When it emerged that Knox would not be returning to teach at Kingston, a group of his former students left also in protest. The majority of these students were women, and they demonstrated their radical intentions by adopting the purple and green colours of the Suffragette movement for their Guild uniforms. The Guild held annual exhibitions in Kingston from 1913-1935 and also held exhibitions at Whitechapel Art Gallery in 1921, 1923 and 1925, which involved practical live demonstrations of craft techniques.
---
[1] Denise & Henry Wren, The Oxshott Pottery (Holburne Museum, Bath, 1984), pp.9-10