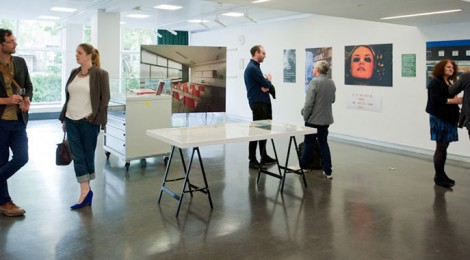 Exhibition: Research Practices in Art and Design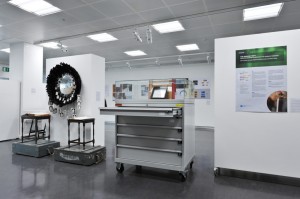 As part of Kingston University's Research Week, this exhibition offers a brief insight into current and ongoing research being undertaken by PhD researchers within the Faculty of Art, Design and Architecture at Kingston University.
It features a diverse range of approaches, topics and disciplines embraced by researchers based at Knights Park and elsewhere, linked to the Faculty's research centres – The Centre for Research through Design, the Contemporary Art Research Centre, the Modern Interiors Research Centre, and the Visual and Material Culture Research Centre.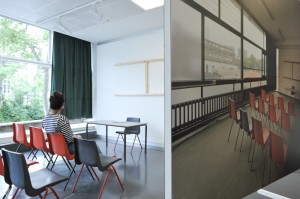 It presents work from PhD students at varying stages of their projects – from first year students beginning their investigations to those writing up their final theses in preparation for the Viva voce. Much of the work exhibited is interim, conditional, exploratory research, giving us a unique glimpse of PhD research processes.
As is evident from the broad range of exhibits, FADA PhD research appears in many forms and guises and traverses a rich variety of routes; trodden and emerging. Diversity is not only encouraged but celebrated. Each approach is valid; each discovers its own inherent truth about art, design and histories – and intersects across a myriad of disciplines.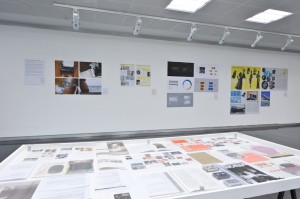 The exhibition features contributions by:
Benjamin Angwin, CARC Research Group, Jack Champ, Kevin Dowd, Rachel Fuller, Sarah Hayward, LDoc Student Group, Ninela Ivanova, Patrick O'Shea, Alex Reynolds, Hannah Rollings, Annalisa Sonzogni, Stephanie Stroh, Eliza Tan, Jane Wildgoose, Esther Windsor.
Curated by Benjamin Angwin and Robert Knifton
Thanks to Ezzidin Alwan, Beverly Ayling-Smith, Joanns Buncelmans, Tom Exley, Andy Haslam, Monika Jastrzebska, Fran Lloyd, Alex Reynolds, Nicola Salliss, Alice Stewart, Tat Whalley, Dennise Yue.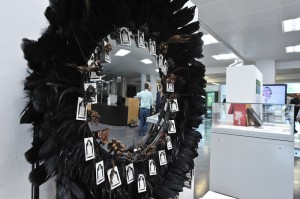 View the exhibition at The Platform Gallery, Knights Park Campus until Saturday 20th June 2015.
Images by Annalisa Sonzogni