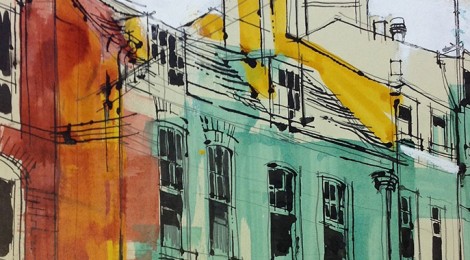 A distinctive feature of student life at Kingston in the 1950s and 1960s were the summer 'Town Studies' undertaken at various small towns across the country on an annual basis. These studies primarily involved students of architecture, although a number of other disciplines also contributed.
Students would descend on the designated town en masse for a week, usually setting up camp just outside the town itself and sleeping under canvas. Under the watchful supervision of members of staff, they would then conduct a large number of observations, surveys, and documentation of the town in question, building up a comprehensive picture of the town in every detail. Once back in Kingston, this information would be processed and compiled into a report filled with suggestions for the development of the town. Occasionally, exhibitions were also mounted – at Knights Park and in the towns in question – so that the findings of the students could be relayed to interested inhabitants.
Towns surveyed by Kingston students over the years included Bradford on Avon, Brecon, Diss, Berwick upon Tweed, and in this instance, Huntingdon in Cambridgeshire – which Kingston students surveyed in the summer of 1963.  Huntingdon Local Studies Archive has preserved the exhibition panels that Kingston students created; these images represent just a brief selection from what was a substantial exhibition.
Images courtesy of Huntingdon Local Studies Archive