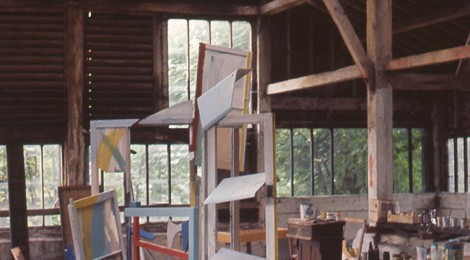 In the mid 1960s, Kingston School of Art used Coombe Farm as an annexe for advanced fine art students. David Nash was amongst the students who benefited from the additional space it allowed. An official letter from 1966 described the annexe as "a large house, well lit and situated in extensive grounds, with outbuildings, some of which are to be developed as workshop areas. It is an independent unit, 1 ½ miles from the main college building, and, by its character and surrounding space, offers an unusual opportunity for a group of advanced students engaged in different kinds of study, with the use of private studios, two printmaking workshops, and ample outside working space."
These images kindly supplied by David Nash Studio show the space as he used it in the 1960s.
All images – copyright David Nash
If you have more photographs or memories of the Coombe Farm annexe get in touch!