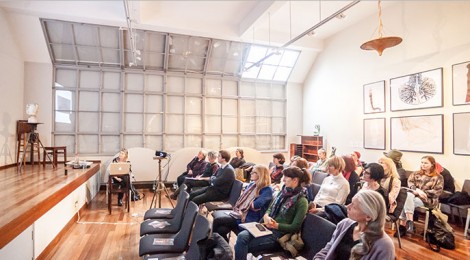 To Dorich House Museum, the former studio home of Dora Gordine, the wonderful setting where our Life on the Outskirts symposium was held on Friday 20th February 2015. A huge thank you to our participants: Professor Fran Lloyd, who chaired the debate; Andrew Ibi, who led conversation, Professor Helen Storey for sharing her insights into a creative life, and Elaine Wilson, who spoke eloquently about her art and relationship to historic spaces.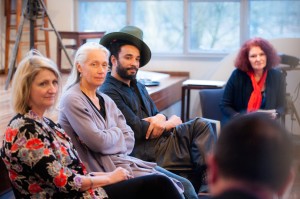 Director of Dorich House Museum David Falkner began the day by explaining the context of the setting. Dorich House was purpose-built to be a studio home, housing the collections and practice of Dora and her husband Richard Hare. As David noted, it was especially appropriate to have two strong female artistic presences in Helen Storey and Elaine Wilson sharing the building with the ghost of Dora.
A wide-ranging conversation between Helen Storey and Andrew Ibi, who runs the MA Fashion course at Kingston University, was next on the bill. Touching on topics from art and design education then and now, the future of sustainable design practice, and entering into a foreign, alien creative culture and thriving, this was a fun yet insightful journey through a creative life.
After tea, Elaine Wilson spoke about her interventions into historic settings, including the placing of works upstairs in the private quarters at Dorich House. Her work questions the roles of women in art and society, challenging perceptions by using traditional methods of ceramics.