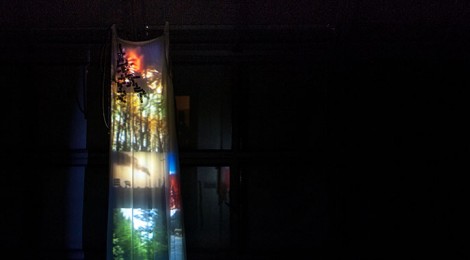 We were incredibly proud to work closely with Kingston Fashion alumna Professor Helen Storey during the Histories in the Making programme, developing digital archives, an exhibition and symposium around the idea of how we make sense and use of a creative life.
One of the unexpected outcomes of the collaboration was how the archival work fed into new ideas and project in development by Helen Storey Foundation. Working to take new archival images of HSF collection artefacts with photographer Ezzidin Alwan and a team of student volunteers, we trialled #Dress4OurTime in the summer of 2014.
This design concept, with images depicting positive and negative reactions to climate change tiled onto the dress surface, was also redisplayed at Dorich House Museum in February 2015. The video made by Ezzidin Alwan, with the assistance of student fashion designer and photographer Kristina Nedeljkovic recently went live, and can be viewed here:
Climate Dress Film from ArchiveKSA on Vimeo.
Life on the Outskirts. Helen Storey Foundation/Kingston University.
Photography: Ezzidin Alwan
Helen Storey, Project Director
Caroline Coates, Project Producer
Ezzidin Alwan, Photography, Film, Editing
Hannah Evans, Fashion technician and assistant
Kristina Nedeljkovic, Photography & Fashion assistant, editing
Joe Ward, Fashion assistant
Ninela Ivanova, Digital draping consultant
Robert Knifton, Researcher
Fran Lloyd, Project Director for Kingston University