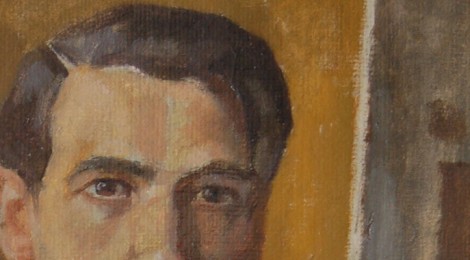 Born in 1919, George Pearson was one of a wave of ex-servicemen who returned to invigorate British art schools in the immediate postwar period. A member of the Artists International Association, Hampstead Arts Council, and the Council of Industrial Design, Pearson's art training began as a Junior at Hammersmith between 1933 and 1936. As a young artist in the lead-up to the Second World War he found employment as a designer for Morton Sundour Fabrics.
After serving in Egypt with the Royal Army Medical Corps (and participating in the United Nations Art Exhibition, Cairo in 1944) Pearson returned to the family home in New Malden and sat his exams at Kingston School of Art, completing the NDD in Painting in 1949. Whilst at Kingston, Pearson collaborated on several large scale mural works, including the murals in the canteen of Surrey County Hall, acting as Gus Lunn's assistant at St Alphege's, and taking a private commission from Bentalls in 1949. L.J. Pryer, Display and Store Decor Controller for the department store commented
We have found his work of a very high standard and he has always been a most co-operative and efficient worker. We can thoroughly recommend him in any capacity, to anyone requiring a high standard of art interpretation.
On leaving Kingston, Pearson continued to work as a painter, exhibited in Young Contemporaries, the 1950 British School at Rome exhibition, Art Exhibitions Bureau, Artists International Association and United Society of Artists exhibitions. He was at this time represented by the Furneaux Gallery in Wimbledon, at held a solo exhibition there in 1965.
Pearson also developed a parallel career as an art teacher, leading Saturday morning art classes at Kingston, and teaching at the Northern Polytechnic Secondary Technical School (later renamed the Sir Philip Magnus Secondary), the South West London Literary Institute, Garratt Green School for Girls, Esher Institute of Further Education and Burwood Park School.
Reginald Brill, the Principal at Kingston wrote of his former student:
I believe him to be a good teacher not only because he is a good artist but because he also has the patience, knowledge, understanding and a sincere and sympathetic manner which commands his students respect.
In his own words, Pearson commented on the occasion of his solo exhibition at the Furneaux in Wimbledon that
Painting for me has become a sort of adventure where the unexpected often happens – a game of hide and, sometimes, find.
Examples of Pearson's art below show the range of styles and techniques he adopted across his career – including figurative, abstract, collage and 3D construction, amongst others. His early works bear the influence of his Kingston tutors – especially Lionel Bulmer and Wilfred Fairclough – but as he matures as an artist, his work expands in new and unusual directions, such as the 3D constructions he made in the 1960s.
Many thanks to Ruth Pearson, George's daughter, for letting us see this material and reproduce the images below: