Born in 1929 in South London, Derek Stow studied Architecture at Kingston School of Art, qualifying in 1950. One of his first jobs was assisting his former Kingston tutors Peter Chamberlin and Eric Brown on the Seaside Pavilion section of the Festival of Britain in 1951. He later was invited by Phillip Powell to join Powell and Moya, to work on their first healthcare project, Fairmile Psychiatric Hospital. In 1962, Derek established his own practice – specialising in healthcare  design and planning projects, as he sought to create architectural solutions to the NHS ideal of cradle to grave care. Over the next 60 years he worked on hundreds of healthcare projects, including Ellesmere Geriatric Day Hospital, Poplar Health Centre, and Lakeside Health Centre at Thamesmead – which won a European Prize for Architecture. He was awarded the OBE in 1979 for services to Architecture, elected a Freeman of the City of London in 1984, and was given the Lifetime Achievement Award for services to Healthcare environment in 2008.
Derek Acton-Stow, born 20 September 1929, died 26 February 2014.
The beautiful examples illustrated below are a sample of material from Derek's student portfolio dating from the late 1940s, and indicate the artistic, illustrative style that featured in Architectural training at Kingston at this time. The range of architectural topics is also clear – from historical studies of architectural periods such as Romaneque and Byzantine, through specific 'design projects' undertaken by students, to studies of materials and techniques.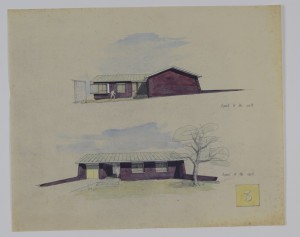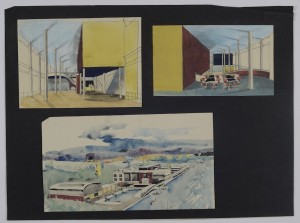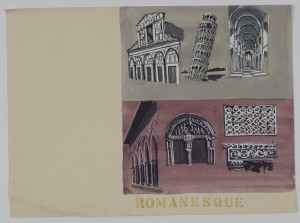 All images reproduced with permission, courtesy of the Estate of Derek Stow. Photography by Noel Isaacs.