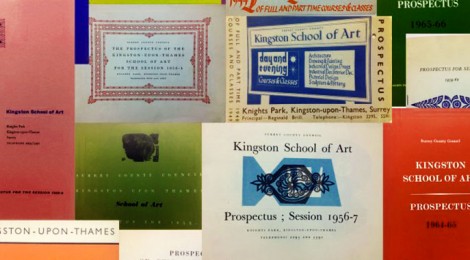 2014/15 marks 140 years since the first art classes held in the town and 75 years since Knights Park opened its doors. Kingston University are working on a programme of events and exhibitions this academic year to celebrate the long, diverse history of our art school. Funded by Heritage Lottery Fund, Henry Moore Foundation and AHRC Creativeworks London, the events and exhibitions run from February 2015 and collaborate with cultural partners across Kingston.
Some of you may have already been in contact with us and provided material for our forthcoming exhibitions for which we thank you. These exhibitions would be impossible to assemble without your memories and experiences of Knights Park. We'd like though to invite you once again to help us shape this history. Please do get in touch with our researcher Rob Knifton with any offers of material for exhibition. In particular we are seeking:
Photographs taken in and around Knights Park – especially images of studios and workshops
Flyers, posters and photographs from exhibitions and events organised by art students
Material traces of gigs, theatre and art performances at Knights Park or involving KSA students
We are also compiling an oral history archive of former KSA students and staff, so if you would like to be interviewed please do let us know. Please get in touch via the contact details below.
Thanks for your time and support,
Fran – Project Leader
Rob – Researcher
r.knifton@kingston.ac.uk