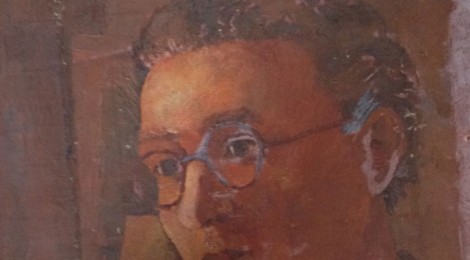 It is with great sadness that we write now about Don Pavey, who passed away in early May.
Don was an extraordinary person: a gentle and encouraging soul who cared deeply about the education of young people and gave a large part of his life over to this, both as a tutor at the art school and in his wider work. He was a highly educated man, with a deep knowledge about a whole host of topics, revelling in the joy of learning throughout his life.
He joined Kingston School of Art in 1939, aged 18 and studied here during the war years (when the self-portrait above dates from). He was a student at the RCA during its exile in Ambleside, and continued his links to this institution, establishing the invaluable resource of the RCA Colour Library. Don returned to Kingston to teach in the 1951, leading developments in Basic Design, and remaining at the art school until the 1980s. During this time, he produced a host of exhibitions and projects around his primary interests in colour theory, games, and creative pedagogy.
The following text is an extract from a testimonial to Don written by John Dawson Binns, Head of Design at Kingston, in 1966:
I believe him to be a man of deep sincerity in all to which he commits himself and because of this, he has commanded great respect from both staff and students.

He possesses a high degree of scholarship which is accompanied by a keen enthusiasm for art education, never being afraid to pursue a policy of experiment in the training of young artists.
Donald Adair Pavey
Artist, Scholar, Teacher.
1922 – 2015
Please add your memories of Don in the comments below.