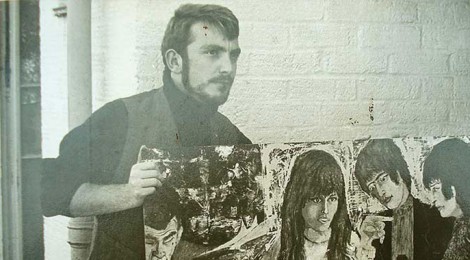 Dave Shanahan was a Fine Art student at Knights Park in the mid-1950s. He got in touch with ArchiveKSA to record his memories of the art school; some extracts feature below, followed by a selection of images of Dave with his paintings.
On the influences encouraged by painting tutors:
Certainly there was Walter Sickett, he was well to the fore, as was the work of Victor Pasmore before he turned towards abstraction. Reginald Brill himself had obviously been influenced by the work of Stanley Spencer; a man who, rather strangely, was not much mentioned by the other tutors. Bacon was another name that was never mentioned, whereas John Bratby who was the rising  star at the time [and a Kingston graduate], was a man we were encouraged to imitate if we so wished, that is if we could afford the sheer amount of paint the fellow used!
On the layout of the building:
…groups of noisy students sitting beside the Hogsmill river on sunny days, the tiny room next to the entrance where one bought ones art materials in the morning, and the equally tiny room the other side of the entrance where the principal lurked. Which in itself raises the question, given that he rarely if ever put in an appearance what on earth did he do in there all day? Having bought ones art materials, one then traipsed up the great staircase which took you to the canteen and the painting department…
On working late in the studios:
Most evenings there would be six or seven of us all working away in our little corner of the studio…there was always a record player somewhere in the room playing West Coast jazz by the likes of Chet Baker, Gerry Mulligan, and someone called Shorty Rodgers. I'd never come across jazz before, but I could see that the two mature students [supervising late working] obviously thought that this cacophony was somehow good for the soul, so, I said nothing, kept my head down and got on with my work. Did this noise affect my paintings I wonder?
On 'Bohemian' fashion influences:
[The mature students in their mid-twenties] with their pipes and polo necked sweaters, their tweed jackets with leather patches on the elbows, and their brown brogues and duffle coats… Little did I know that in within a year I would have given up trying to look like James Dean in favour of sporting my own version of those so called Bohemian outfits!
On social backgrounds of art school students:
Perhaps I ought to mention here that I was one of very few working people attending the Art school at a time when most students tended to be middle or upper class.  So, whereas I was getting a grant most of these other students were fee paying; the parents of the girls in particular seemed to view the Art school as some kind of finishing school, a place to send your children whilst they tried to figure out what to do with them.
On the prevailing conservatism of the art school in the 1950s:
For all the turtle necked sweaters and beards, the mental space was terribly conservative. Not that I minded at the time, nor indeed mind now, but if we look at the explosion of Abstract art that was happening, especially in America at the time; a cultural wave that was just beginning to lap up against our own shores, it seems to me now that it might just as well have never happened as far as Kingston Art School was concerned.
Finally, on the method and craft of art school:
[My time at Kingston has] left me eternally grateful to those men who taught me the basics of how to draw and paint, 'to feel the line, and learn where to give it its proper weight,'  that was something Frank Archer drummed into me during countless life classes, advice that has stayed with me ever since. Yet another lesson was that one must look, and look hard at the world around you before you ever commit a mark to paper.
The photographs below show Dave with his work at this point for the Intermediate NDD. They were taken using a Box Brownie camera. The images are mostly taken at Dave's parent's house in Chessington around 1956 and 1957, with the exception of the final image, which is at the art school itself at Knights Park.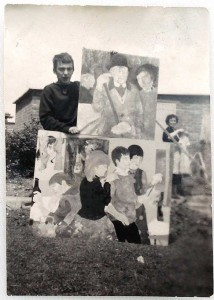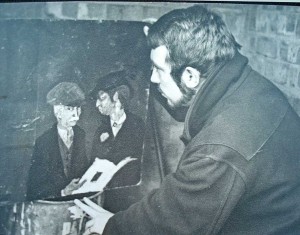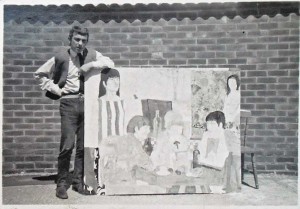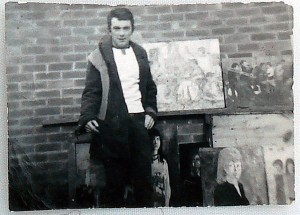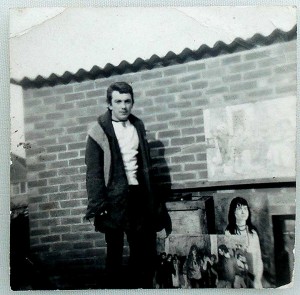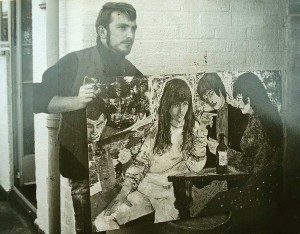 All images and texts courtesy of David Shanahan.