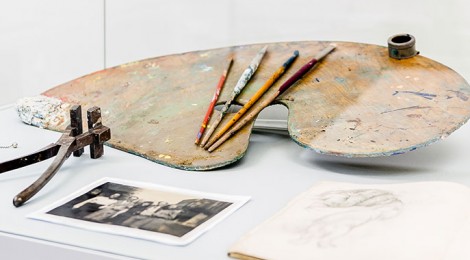 The ArchiveKSA team curated a small introductory exhibition for the Platform Gallery at Knights Park, Kingston University in NOvember 2013. Below are a few images of the display cases that featured in the show. Many thanks to the lenders who contributed material to the cases, and especially to Ann Ryves whose student palette and brushes feature centre stage! All images courtesy of Ezzidin Alwan, Kingston University Digital Media team.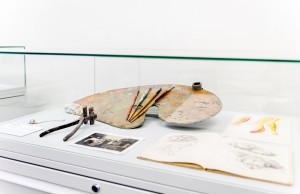 Case contents: Palette, brushes, dipper, canvas stretcher and plumb line used by Ann Ryves when studying at Kingston between 1947 and 1951; Photograph of two students and tutors Raymond Coxon and Augustus Lunn; anatomy sketch and sketchbook by Barbara Freeman, student at Kingston in 1920s.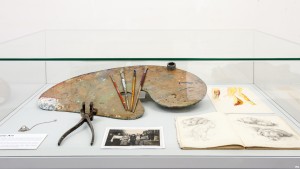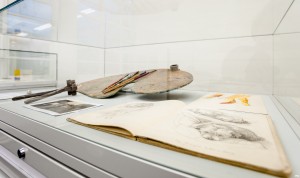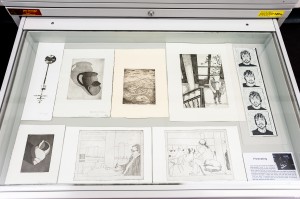 A selection of etchings loaned from the Knights Park printmaking historic archives, 1970-2012.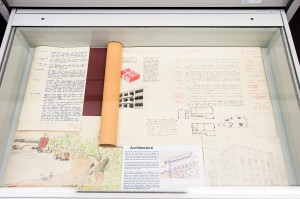 Artefacts from the Architecture portfolio of Marry Herring, amongst the first female Architecture students to study at Kingston, 1939-1947.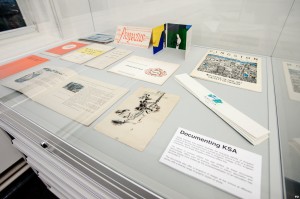 A selection of historic prospectuses and invitations from the Kingston University archives at Penrhyn Road. With thanks to archivist Katie Giles.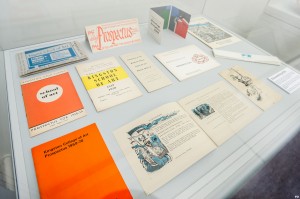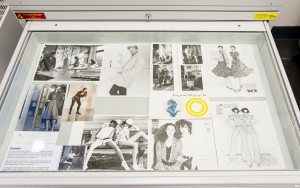 Images from the Fashion photography archives. In the bottom centre is an image from Helen Storey's student days at Knights Park – with thanks to Helen Storey Foundation.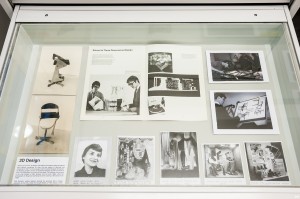 Examples of Furniture, product and 3D Design through the years. Far left: Chair designs by Mike Burgess, c.1962. Far right: Studio images taken by tutor Aidron Duckworth, c. 1950s – with thanks to Aidron Duckworth Museum. Top Centre: 3D Design in the 1967 Annual Review magazine. Bottom Centre: 1960s Window Display designs by Patti Richards, with thanks to the artist.