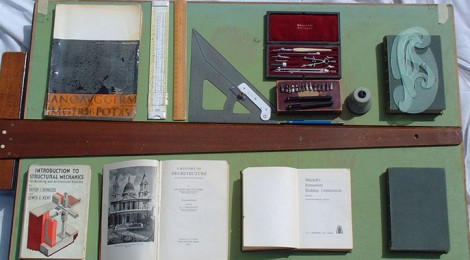 Things you needed to commence architectural training in 1962
Kingston College of Art Architecture graduate Stephen Finch has provided a photograph and list of the 'tools of the trade' required to be an Architecture student when he began his studies at Knights Park in 1962. All items original:
Double elephant composition drawing board. (Stand supplied by KSA)
Ebony/ Mahoghany T Square.
Stabiloid adjustable set square.
Staedtler Mars 780 clutch pencil.
Swiss pencil pointer.
Harling London set of geometrical instruments.
Set of Graphos pens and nibs.
Hall Harding imperial scale. (Metric change over not until 1968).
Aristo-Scholar VS slide rule.
Set of french curves.
A History of Architecture by Sir Bannister Fletcher. Seventeenth edition.1961.
Mitchell's Elementary Building Construction. Twenty-third Edition. 1961.
Mitchell's Advanced Building Construction – The Structure.
Mitchell's Advanced Building Construction – Components, Services and Finishes.
Introduction to Structural Mechanics by Trefor J Renolds and Lewis E Kent. Fourth Edition. 1961.
Applied Lettering by Maurice Ward.
Also but not included in photo:
Oatmeal Draughtsman Overall/ Coat with waist tie – not included in photo.
Lockable metal equipment storage box – not included in photo.