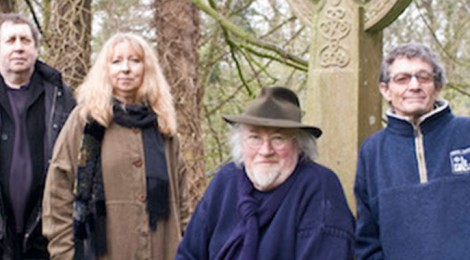 We were all saddened last week to learn of the death of musician and former Kingston School of Art student John Renbourn at his home in Hawick, aged 70.
Renbourn was an innovative, pioneering and influential guitarist on the folk scene centred around Kingston and Soho in the 1960s, and his music lives on through the albums he produced both as a solo artist and as a member of Pentangle, and in the style of playing that he developed, influencing musicians such as Jimmy Page and another Kingston art school student, Eric Clapton.
The Telegraph relates that Renbourn lived on a houseboat on the River Wey when he started at Kingston College of Art in 1964, and he played in a band at this time known as Hog-Snort Rupert's Famous Porkestra. He would also frequently play within the Folk Club set up at the Penrhyn Road student union. In the comments beneath, a fellow art school student remembers his virtuosity, and recalls John once playing a version of Puff the Magic Dragon at his request.
It was at Kingston too that John met his first wife Judith Hills, a fellow student at the art school; as Ken Hunt notes in The Independent, his eponymous debut LP opened with a track named in her honour. John and Judy married in 1966.
Kingston University Photography lecturer Vince Wade remembered John from his days on the 1960s folk scene:
As a teenage musician in the sixties I first met John Renbourn when he came to play the Barking (Barkynge) Folk Club. I was one of a group of local musicians who would regularly be the support for the headline act. As a harmonica player this meant that I was often privileged to play with many of the leading musicians of the day, including John Renbourn.

John was no ramblin' casual troubadour; he was a seriously gifted and innovative guitarist. He was particularly interested in extending the boundaries of styles he could master in playing the guitar, and his set always managed to convey that sense of joy and innovation which he had for his instrument.

As an impressionable and shy young man, I must say I found many of the famed musicians to be rather intimidating. John was really different, being both shy himself and also very generous in his encouragement of my burgeoning talent. Little did I know that our futures would take opposite journeys: John's further from Kingston Art School, mine circuitously but eventually here.
Mick Houghton spoke to John Renbourn about his time at Kingston College of Art for his recent book, I've Always Kept a Unicorn: The Biography of Sandy Denny. Renbourn recalled of his time at Kingston:
I went to the art school at Kingston because I couldn't do anything else and it was a bit of a catch-all for drop-outs. Some of the art-school types used to go to a pub in Hampton called the Feathers, and we'd sit around playing guitars…
Similar to other musicians on the folk and R&B scene around Kingston such as Sandy Denny and Eric Clapton, Renbourn did not complete his art school studies, leaving instead in 1965 to pursue his musical passions, and shortly after forming the working partnership with Bert Jansch that would prove so fruitful. He continued to make music and tour until the very end, playing nine gigs in March.
John Renbourn, born August 8 1944, died March 26 2015
http://www.telegraph.co.uk/news/obituaries/11499608/John-Renbourn-folk-musician-obituary.html
http://www.independent.co.uk/news/obituaries/john-renbourn-influential-guitarist-whose-work-with-pentangle-and-on-his-own-made-him-a-leading-light-of-the-british-folk-revival-10140118.html